Tyler shown here winning BEST OF BREED at the Toledo GSDC June 27, 2004 over 5 Specials!!
Thank you Sandi Card for this SUPER win !!!
Thank you Terry Hower for handling Tyler, your the "BEST"
Tyler finished his Championship in 4 shows

ALL MAJORS!

WOW look at TYLER show career!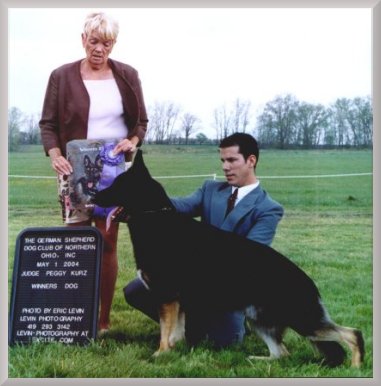 5/01-Northern Ohio Spec. under Peggy Kurz
Tyler's first 2 Pts. Thank you Peggy!!
(2 shy of a Major)
Thanks to Terry Hower for handling him and to Jeff Pyle for taking him back in for Winners!!

5/28 -Michigan Wolverine GSDC under LanaLee Jorgenson
*Best of Breed 3 Pt. MAJOR*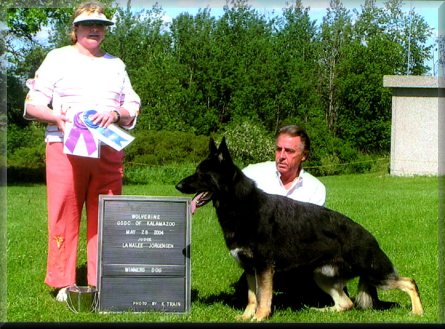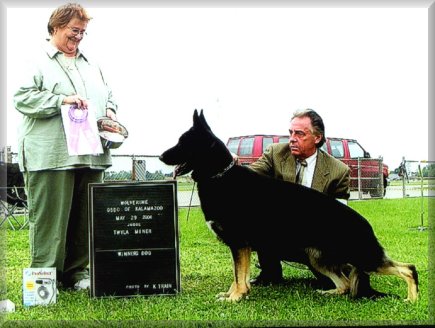 5/29- Michigan Wolverine GSDC club under Twyla Miner
*4 Point MAJOR*
6/12-GSDC of Central Indiana under Dr. Shahroki
*3 Point MAJOR*
6/13- GSDC of Central Indiana under Kay Reamensnyder
*3 Point MAJOR*
9/04 W. Pa. Speciality BEST OF BREED over 3 Specials!
Thank you Frank Tate **

He is a VERY sound dog with a great attitude towards life and loves to be in the show ring!
Tyler has a handsome male head, dark eyes, tight feet, excellant ear set, strong short back, good croup with a flowing balanced gait. Tyler carries the BLACK FACTOR like his sire!
Tyler was 2nd at the 2003 Great Lakes Fut. in his quality filled class.
Watch for Tyler once you see him you won't forget him!
Tyler's proud breeders /owners are Vicki Burkey (Von Charisma) and Pat Lukos (Sarava)